Operation Bluenose
---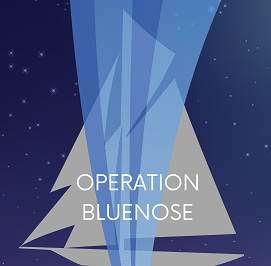 Operation Bluenose: Virtual Vigil to Reflect on Community Pride and Service
July 24-26 Illuminations Coincide with First Sailing of the Bluenose II
(HALIFAX, N.S.) – The first sailing weekend of the Bluenose II, July 24-26, will provide the backdrop for Operation Bluenose, a three-night virtual vigil across the province that will showcase structures illuminated in blue light to recognize the strength of Nova Scotians and honour those we have lost this year.  
Since the beginning of the COVID-19 pandemic, communities across the globe have been challenged in many ways. During this time, Nova Scotia also has suffered some profoundly difficult losses, including the loss of too many first responders, military members, and community citizens. 
Correlating this virtual vigil with the first sailing weekend of Bluenose II is a tribute to Nova Scotia's legacy of perseverance and capacity to overcome adversity.  
This project is led by Members of the Council of Honorary Colonels in Nova Scotia, and is supported by Bluenose II, 5th Canadian Division , 14 Wing Greenwood, the Province of Nova Scotia, Department of Communities Culture and Heritage, Parks Canada and municipalities including Halifax, New Glasgow, Truro and Colchester.
While the Operation is anchored in Nova Scotia, participation in the virtual vigil is encouraged from sea to shining sea. Anyone can participate simply by lighting up their homes or businesses in blue and by sharing their thoughts and images on social media using #OperationBluenose. 
Participating communities and organizations that will illuminate at dusk, between 9:00 – 11p.m. on the evenings of July 24-26 include: 
Bluenose II Sails, Lunenburg (July 24th only)

Peggy's Cove Lighthouse

Town of Truro - Town Hall, Library, Police Station

Town of New Glasgow - Glasgow Square, Fire Hall – tentative - Carmichael Park and Town Hall

Municipality of Colchester - Portapique Church Memorial 

Halifax City Hall

Halifax Convention Centre

Nova Centre

Government House of Nova Scotia

Citadel Hill, National Historic Site

CN Halifax Intermodal Terminal, Port of Halifax

Halifax Armoury

Royal Artillery Park

14 Wing Greenwood
We ask people who want to view or photograph the illuminated structures to adhere to all Nova Scotia Government COVID-19 public health measures, guidelines, and restrictions.
Operation Bluenose is administered by the Army Museum Halifax Citadel and is made possible by the generous support of CN Community Board.  A Facebook Page has been created: @Operation Bluenose for up to date information.