Our Priorities and Approach
Ensuring that women and their children are safe from gender-based violence.
Strengthening women's economic security.
Encouraging women's participation in leadership.
Our Vision: Gender Equality
Status of Women News

From challenge comes change, so let's all choose to challenge.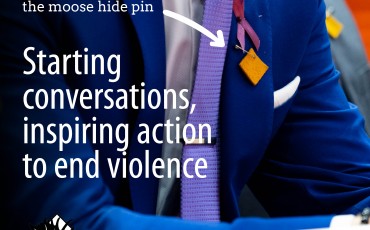 Take part in the National Online Moose Hide Campaign Day on February 11, 2021.
The Moose Hide Campaign is a grassroots movement of Indigenous and non-Indigenous men and boys who are standing up against violence towards women and children.
Wearing this moose hide signifies your commitment to honour, respect, and protect the women and children in your life and to work together to end violence against women and children.
Status of Women Events
Register for the municipality's celebration of International Women's Day on Monday, March 8, 2021, s presented in partnership between Halifax Regional Municipality's Office of Diversity & Inclusion and The Halifax Central Library.
The event's keynote speaker is Rajean Willis, a clinical social worker, writer, researcher, and PhD candidate from Truro, NS. The event will also feature a panel discussion around this year's theme, Choose to Challenge: Women's Resilience in the Time of COVID-19. All are welcome to this free virtual event.
The Canada's Feminist Response and Recovery Summit will bring together politicians, experts, feminist leaders and those with lived experience to examine how COVID-19 is impacting the lives of women in Canada. It will focus on the steps that governments, civil society and all Canadians can take to ensure an inclusive recovery by advancing gender equality.
Over two days, you will learn about key issues facing women impacted by the COVID-19 pandemic, including Black and racialized women, Indigenous women; women with disabilities; LGBTQ2 individuals; senior women; women in rural and remote areas; immigrant and newcomer women; and young women. The online summit will look at issues faced by women's and equality-seeking organizations. Through presentations and interactive sessions, you will:
Learn and discuss how COVID-19 and related public health measures are impacting women and the women's and equality-seeking sectors.
Be part of engaging discussions on the role of child care, good jobs, and other initiatives in Canada's inclusive recovery.
Examine how, done right, our response and recovery can help advance gender equality and grow the economy over the long term.
Join us for a night of conversation for International Women's Day, with El Jones, Nora Loreto, and Julianne Acker-Verney. Moderated by Fazeela Jiwa, Fernwood Publishing.
Join the conversation to discuss what our future post-Covid-19 could look like. The pandemic has had a tremendous impact on those who were already made vulnerable by social and economic systems that expects them to fill in gaps left in our society and institutions. What has also been brought to the fore is the power of social movements to push for change, like the Black Lives Matter movement, or the feminist movement. How do we work together to ensure that our future post-Covid-19 is one that centres collective care of each other and the planet, and one that justly supports those needing, providing and receiving care?
Hosted by CCPA-NS, Wellness Within and Fernwood Publishing. 
Sponsored by Adsum for Women & Children; The Alexa McDonough Institute for Women, Gender and Social Justice; Canadian Research Institute for Advancement of Women; Canadian Union of Public Employees Nova Scotia; Fernwood Publishing; and the Local Council of Women Halifax.
Register in advance to get the Zoom link: https://feministreset.eventbrite.ca