Our Priorities and Approach
Ensuring that women and their children are safe from gender-based violence.
Strengthening women's economic security.
Encouraging women's participation in leadership.
Our Vision: Gender Equality
Status of Women News
"October has been designated as Women's History Month in Canada since 1992 when the Government of Canada declared that month to mark and celebrate the many achievements of women throughout Canada's history. Much of the traditional history taught and recognized were accomplishments of men. Although it is important to recognize their contributions, those made by women seemed to be invisible and so it was fitting that a month was set aside to acknowledge the many achievements and the lasting impact made by women."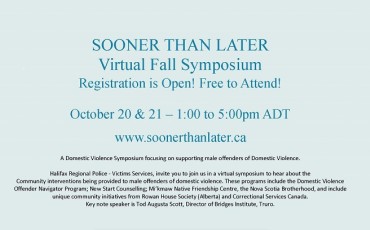 "In 2020, through funding under "Standing Together: a provincial action plan to prevent domestic violence," a Domestic Violence Offender Navigator (DVON) was hired to work with the Halifax Regional Police's Domestic Violence Officer (DVO). The goal was to support high risk offenders of domestic violence access services sooner rather than later.